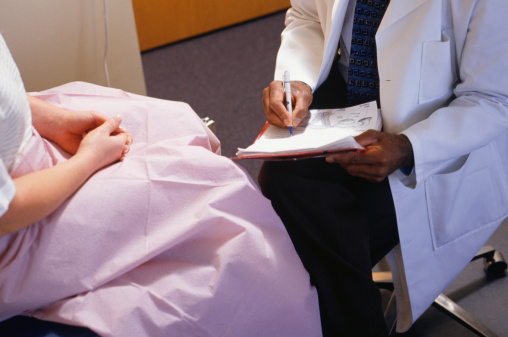 A significant number of pregnant people need access to abortion care after the first trimester (after 12 weeks' gestational age).
In most states, there are skilled Maternal/Fetal Medicine specialists (MFMs) that provide termination of late pregnancies when there is a threat to the client's health and/or a non-viable fetus. It is more difficult to find services when clients need later abortions for other reasons. 
Finding a clinic or hospital | Insurance coverage | Financial assistance | Support services | Clinician resources
Finding a clinic or hospital
Clinics | Hospitals | Clinics outside the United States
Clinics that provide abortions at 24 weeks and later. To find a clinic that provides abortion services after 24 weeks of gestational age, you can call the National Abortion Federation Hotline, 1-877-257-0012 (weekdays 9am–8pm EST, Saturday noon–5pm EST). For a list of clinics providing abortion services at and beyond 24 weeks, you can also refer to this sheet.
The quality of care can vary widely among all medical facilities. Since many people do not talk about their abortion experiences, it is often difficult to know what to look for when choosing a clinic or to find reviews by clinic patients. But the National Network of Abortion Funds has published some very helpful guidelines to finding a clinic that will best fit your needs. 
Clinics that provide abortions at 14–24 weeks. To find a a clinic in your state that provides abortions from 14 to 24 weeks, visit abortionfinder.org or ineedana.com. 
Finding a hospital in your state that provides later abortions. Hospitals provide only 5% of all the abortions performed in the U.S.(1) Many hospitals provide abortions only in cases of fetal anomaly or serious risk to the pregnant person's health, while some will provide later abortions in selected situations based on the judgment of the clinician team. Some teaching hospitals have excellent abortion services integrated into their obstetrics/gynecology department.
If a pregnant person is diagnosed with a problem in pregnancy and decides to terminate that pregnancy, they should ask the doctor who gives them this diagnosis for a referral to the closest provider. If the doctor cannot or will not identify a provider, the pregnant person should call the maternal/fetal medicine department of the closest non-Catholic hospital and request an immediate appointment for a pregnancy termination.
If a person is more than 14 weeks pregnant and faces difficulties finding an appropriate hospital provider, they should immediately visit abortionfinder.org or ineedana.com. With each passing week, a pregnancy termination is more expensive and it is harder to find a provider, so pregnant people should not delay in finding an appropriate referral as quickly as possible after deciding to end a pregnancy.
Clinics outside the United States that provide abortions at 24 weeks and later. British law allows abortions after 24 weeks on grounds of serious risk to the pregnant person's health and life and in cases of very serious fetal malformation. There is no existing provision for clients from other countries. For services in Great Britain, contact bpas.
Abortions after 22 weeks are also provided in the Netherlands and in Sweden. Most European countries provide later abortions in cases of risk to the health of the pregnant person or serious fetal anomalies. The Fédération Internationale des Associés Professionnels de l'Avortement et de la Contraception (FIAPAC) maintains a list of European clinics.
Taiwan and Singapore provide abortions to 24 weeks.
Insurance coverage
Federal Medicaid does not cover abortion, and abortion coverage is excluded from the coverage of all Federal employees and dependents, including those in the military and their families, prisoners, and those dependent on Indian Health Services.
33 states ban state Medicaid funds from covering abortion except in cases of life endangerment, rape or inces, and one state only provides Medicaid funding to cover abortions that are necessary to save the pregnant person's life. Sixteen states allow state Medicaid funds to cover the costs of abortion. See a list of states allowing Medicaid funds to cover the costs of abortion.
In addition, a number of states also prohibit private insurers from covering abortion services, except in cases of life endangerment. Eleven states restrict private insurance coverage of abortion, including restrictions to plans offered under the Affordable Care Act (ACA), with eight of these states limiting coverage to cases of life endangerment and the remaining three providing coverage in cases with some combination of life endangerment, "substantial and irreversible impairment of a major bodily function," rape, incest, and/or fetal impairment. Only six states require abortion coverage through private insurance plans, three of which require no copayment. More information about which states restrict private insurance coverage is provided in "Restricting Insurance Coverage of Abortion," published by the Guttmacher Institute in January 2010. With health care reform and the passage of new insurance restrictions in many states, check with your insurer about what coverage you may currently have.
If a pregnant person has private health insurance, they can call their company to find out if their abortion will be covered. It is important to let the company know if the pregnancy is being terminated because of a fetal anomaly or threat to the pregnant person;s health, as this may impact whether or not the procedure will be covered. It is also important to call the facility providing the abortion, as some clinics do not accept private insurance. If financial help to pay for an abortion is needed, see the following section.
Financial assistance for abortion care
The National Abortion Federation hotline provides referrals and financial assistance to clients who need later abortions:
For clinic referrals only (no funding) 1-877-257-0012
For referrals and financial assistance 1-800-772-9100
The National Network of Abortion Funds is a network of state-based funds that provide financial assistance. Find the fund in your state online or call 617-524-6040.
Support services
The decision to terminate a pregnancy can be difficult for some people, regardless of their reason or the gestational age of the pregnancy. In addition to family and friends, these organizations and websites offer support:
Backline—Backline offers support to pregnant people and their loved ones around all aspects of pregnancy and decision-making about abortion, adoption and parenting. They provide nonjudgmental and confidential options counseling and support before and after abortion. Call their Talk Line at 1-888-493-0092, Mon–Thurs 5 PM–10 PM PST; Fri–Sun 10AM-3PM PST.
Exhale: an after-abortion counseling talkline—Exhale provides support to people who have abortions, and their partners, friends and family. All calls are confidential, and the cultural, social and religious beliefs of all callers is respected. Call 1-866-4 EXHALE (1-866-439–4253), Mon.–Fri. 5 PM–10 PM PST; Sat.–Sun. 12 noon–10 PM PST.
Abortion for fetal anomalies—This website was established by families that ended wanted pregnancies due to fetal anomalies.
  (1) Jones RK et al., Abortion in the United States: incidence and access to services, 2005, Perspectives on Sexual and Reproductive Health, 2008, 40(1):13.
Clinician referrals
For a list of information that may be helpful for clinicians to gather prior to making a referral for an abortion see this printable reference card.