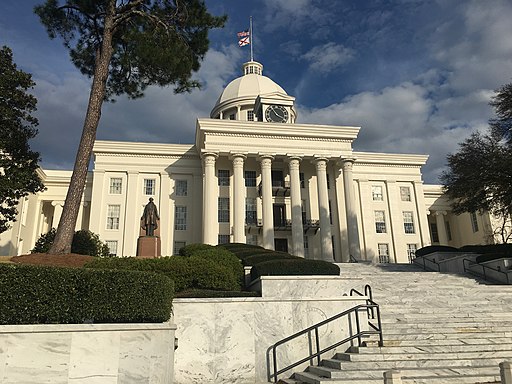 On Wednesday, May 15 Alabama governor Kay Ivey signed HB 314 into law, a bill that bans abortions at any point in pregnancy, even in cases of rape or incest. The sole exception is for a medical emergency. The ban also criminalizes doctors, who could face up to 99 years in prison for performing an abortion, and up to 10 years for attempted abortion. The bill is set to take effect in six months.
The American Civil Liberties Union (ACLU), Planned Parenthood Federation of America, and the ACLU of Alabama filed a federal lawsuit May 24th challenging the Alabama ban. They have asked for an injunction to block the law from taking effect while legal proceedings continue. Staci Fox, president and CEO of Planned Parenthood Southeast Advocates, the affiliate that serves Alabama, Georgia, and Mississippi said, "In the coming days we will be mounting the fight of our lives – we will take this to court and ensure abortion remains safe and legal."
HB 314 is the latest in a series of abortion bans. According to the Guttmacher Institute, since the start of 2019, 28 state legislatures have introduced bans that limit the reasons for abortion, ban specific methods, and prohibit abortion after a specific gestational age. Governors in Kentucky, Mississippi, Ohio, Georgia, and Missouri, have signed bills that prohibit abortion once a heartbeat can be detected, and in Louisiana and South Carolina similar bans are making their way through the state legislatures. While some of these potential bans include exceptions for medical emergencies, only Georgia and South Carolina allow exceptions in case of rape or incest. In Alabama, Missouri, Louisiana, and South Carolina, performing an abortion would also be considered a felony.
Bans like these can further limit access to abortion in states where logistical and financial barriers may already make it difficult for pregnant people to access abortion care. The ACLU and Planned Parenthood reportedly also plan legal action opposing abortion bans in a number of other states, including Ohio and Kentucky.
Sources:
Gorman, S, Trotta, D. (15 May 2019). Alabama governor signs strictest U.S. abortion ban into law.
Elliott, D, Wamsley, L. (14 May 2019). Alabama Governor Signs Abortion Ban Into Law.
Shea, B, Gandy, I. (17 May 2019). Everything You Need to Know About the Extreme Abortion Bans Sweeping the Country (Updated).
Planned Parenthood Action Fund. (14 May 2019). Breaking: Alabama Legislature Passes Bill to Outlaw Abortion, Criminalize Doctors.
Burke, M. (24 May 2019). Planned Parenthood and ACLU sue over Alabama's 'extreme abortion ban'.